Bespoke


Wordpress based website design
Riotspace Creative has the skills and experience to build beautiful, fully responsive websites, ecommerce websites, and custom web apps. Each website design our team designs and develops is tailored and built to the client's specifications.
We carry out research for your website so your it will not look the same as other websites in your field. If you're looking for a bespoke WordPress website, ecommerce website, or web application, our team will work with you to develop a website that will promote and showcase your business.
Our websites have responsive designs, which means they can be viewed across different devices, including desktop, tablet, and mobile phones.
Our team will create you the perfect website based on any preferences or ideas that you may have. The team at Riotspace Creative is skilled and dedicated.
We keep up to date with new technologies and design trends and always maintain a professional and informative working relationship with our clients. From developing the initial concept through to your website going live, you will be informed at all times so that you are always involved in decision making, and also have a good understanding of the timescale.
If you're searching for website design in Sherborne, Sturminster Newton, or any other area in Dorset, don't hesitate to contact Riotspace Creative.
Our Website design services include or involve the following features or stages:
Talk to a Website and ecommerce design expert
If you want to discuss your new website design, or would like our team to improve your current website, get in touch with us today.
Creative Briefing
Our team will take the time to understand your industry, business operations, and brand before we start designing your website. Together, we can develop a creative brief and key objectives that will help our designers transfer your ideas to a digital platform. We'll ensure that your finished website, ecommerce website, or web application is consistent with your brand identity.
User Experience
To effectively reach your target market, you'll need a website that potential customers can easily navigate. This will mean that your website must be eye catching and yet simple to use. Giving your customers an enjoyable experience is vital for engaging them and getting them to convert or return at a later date.
Mobile-first Design
More and more people view websites using their phones, and Google's index is mobile-first. That's why all our websites are designed to be mobile-first, as most of your traffic comes from mobile devices. Our team can create your website pages in a mobile layout and then scale them up to be viewed on a desktop.
However, we can also prioritise desktop design if most of your target market uses computers or laptops to view your website. We will always do our research and view data to tell us what type of design to start with.
App Design
Many businesses are extending their digital presence by producing an app. Good App design can be challenging to find, but Riotspace Creative has the skills and experience to convert your ideas into an app. We'll ensure that the design of your app is fully functioning and aesthetically pleasing.
Ecommerce Websites
If you sell online or own a physical shop and are looking to expand into the online market, you'll require an ecommerce website. Riotspace Creative can create ecommerce websites that are easy to navigate, well designed, and are optimised to rank well Google's search engines. Our ecommerce design will capture your target market's attention and encourage purchases.
Website Development
Riotspace Creative comprises skilled website designers and website developers. We develop ideas, concepts, and designs that are realistically achievable during the development stage. Our team will create a website that is not only aesthetically pleasing but also performs well. Riotspace develops website designs using WordPress CMS and WooCommerce.
Conversion Rate Optimisation
Rather than building a new website for your business, we may be able to optimise your existing website. A complete website refresh is sometimes the best solution. Riotspace Creative can make adjustments to the design of your website, changing the colours and layouts and adjusting the navigation to make your website more effective at conversions. Updating your existing website is likely to be a quicker and more cost-effective solution.
Responsive Design
You don't want the design of your website to be affected by screen size. That's why all our sites are designed to be responsive. We create sites that use responsive web design (RWD) to ensure the finished website will adjust to users' devices. Your potential customers will be able to view your website on their desktop, mobile devices, or tablets.
Engaging, fully responsive
Website development
At Riotspace Creative, website design and development is done to the highest standard. We will help your business stand out from your competitors and gain the attention of your target market. Our team will collaborate with your business to create the perfect website, web application, or ecommerce website which is mobile responsive. We will ensure that we meet your company's objectives, and the finished website or app is in line with your vision for the project.
Our team creates engaging web-responsive designs that are user friendly and can be viewed on various devices. We also are experts in Search Engine Optimisation and will get your website ranked well in the search engines.
Riotspace Creative has a proven track record and dozens of happy clients. We can bring your brands concepts to life online. Whether you want to redesign your existing website or build a new one, our team creates bespoke websites.

We are equipped with the right technologies, a skilled and professional team, and the expertise to create a website that will help your business stand out. Our website design services will allow you to engage with your target market and deliver results that will help your business grow, resulting in a greater return on investment.

Clients tell us that having their website designed by Riotspace Creative is an engaging experience as our team are professional and great to work with. We work collaboratively on website and web application development projects and provide clients with a great working relationship and a result we can all be proud of.
Riotspace Creative has the experience to make your website or app stand out. We work hard to meet clients' briefs and often exceed their expectations by developing beautifully designed sites that are easy to navigate.
Our team build your website with powerful, targeted optimisation from the word go. We generate results that will help you to
target your audience
with pin-point precision.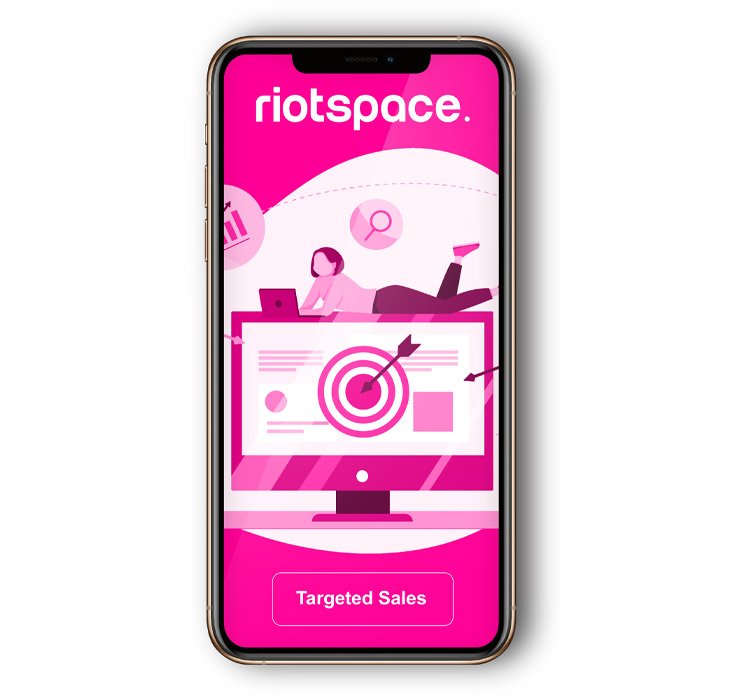 In a world full of online opportunities, you will need a website that is competitive, well-designed and optimised. Your website will also need to be responsive and offer a great user experience. Companies must cultivate a strong online presence to reach their target market, stand out from the crowd, gain potential customers and ultimately achieve a greater return on investment.
Our team can undertake in-depth research in your industry to determine the competition and find appropriate keywords. We will then design and develop your website's structure and use our creative skills to produce a website that is both user-friendly and aesthetically pleasing. We regularly update our clients at each stage of the project, and you will be able to test and approve the website before it is launched.
Whether you're looking to build a new WordPress website, create an ecommerce website, redesign or update your existing website or create a web application, Riotspace Creative can help make your vision a reality. We create bespoke web apps and websites that will attract potential customers and meet your business growth needs.
Based in Sturminster Newton and covering the Dorset area, Riotspace Creative provide a variety of website design, SEO (Search Engine Optimisation), digital marketing and branding services.
Contact Riotspace Creative today on 01258 522 118 or hello@riotspace.com to find out more.