Strategic


advertising campaigns
Everyday billions of people around the world log into their social media accounts. Social media is constantly expanding and evolving, and new platforms are regularly created. Platforms such as Facebook and Instagram are no longer used simply to connect with friends or share updates. People can view products, connect with businesses and even purchase products and services through social media.If your business isn't doing social media marketing, you're missing out on some fantastic opportunities to connect with your target market.
Marketing on social media will help you achieve more leads and more sales. If you're looking to create a social media profile, update your existing pages with compelling posts or run a marketing campaign, Riotspace Creative will help. Riotspace Creative is an expert team of social media marketing experts who use multiple channels and platforms to get your business noticed.

Using paid advertising on social media is an excellent strategy that allows you to target specific demographics and psychography, ensuring you reach your audience. A strong social media presence will improve your brand's image and change the way potential customers perceive your business. It will also help generate more sales, get leads, and ultimately achieve a greater return on investment.

Our social media marketing services include or involve the following features or stages:
Talk to a social media marketing expert
If you want to discuss your new social media campaign, or would like our team to discuss your current advertising strategy, get in touch with us today.
Facebook and Instagram ads
Did you know that Facebook and Instagram have a staggering three billion users! If you haven't yet tapped into the social media trend or aren't fully utilising your social media accounts, you will be losing out on masses of potential sales. Facebook and Instagram are both powerful marketing tools that can be used to directly reach your target audience.
Riotspace Creative will help with all aspects of running a Facebook or Instagram page. From setting up your accounts, creating Facebook posts, increasing your following to creating eye-catching images for Instagram, adding hashtags, creating ads, Insta stories, and boosted posts.
Our team will engage and entertain your audience. A planned and structured social media marketing strategy will encourage sales and get you more clients or customers.
LinkedIn ads
LinkedIn is considered the social media of choice for professionals and businesses. It allows you to create a comprehensive profile, publish posts and create targeted ads. You can also connect with other professionals and businesses in your industry. LinkedIn is the leading business-to-business (B2B) social networking platform. If you are selling to businesses or professionals, then LinkedIn should be an essential part of your social media marketing strategy.
LinkedIn will allow you to market your business in a professional and focused manner. It has excellent audience targeting and advertising that will enable you to reach the B2B market.
Remarketing
Riotspace Creative will use tracking codes on your online assets to collect data, such as Facebook Pixel. This will allow us to retarget your website visitors via social media, which will mean your audience will be effectively funnelled towards conversion.
Consultancy & ad audits
We will access your social advertising accounts and evaluate their current performance. Our team will create a bespoke social media marketing strategy for your business, including recommendations for improvements to help target the correct audience, create compelling content and increase your overall return on investment.
Twitter ads
Our team also work with Twitter, another very popular social media platform. We'll craft tweets that are compelling and will help you to increase your following.
Riotspace Creative will develop and promote advertising campaigns that will help drive website conversions. We'll advertise to potential customers on Twitter's fast-moving platform by targeting planned keywords and interests. With Twitter, we can also target all the followers of a specific account, allowing you to get your tweets in front of people interested in your industry, products, or services.
Youtube ads
In recent years video marketing and vlogging (video blogging) have become increasingly popular. Platforms such as YouTube and Tik-Tok are very powerful marketing tools. Rather than directly advertising your products on YouTube, you can create content that your target market is likely to be interested in. By considering your target audience's lifestyle, you can create engaging video content that will be linked back to your ecommerce store or website.
Riotspace Creative will embed ads into your YouTube channel and videos. We can use multiple video ad formats, such as TrueView In-stream, Discovery, Masthead ads and Bumper Ads that will increase your product or service views and generate conversions within your target audience.
Ad analytics
You're not going to know how successful your social media marketing has been until you analyse the data. Our team will determine the success of your campaign and provide you with reports. We'll also optimise your campaigns to improve future social media marketing strategies.
Bespoke marketing strategies
to engage your audience
Riotspace Creative will collaborate closely with your business to decide which social media platforms and channels to use. We'll then target our marketing efforts towards your audience and design ads that are compelling and creative. Our social media marketing strategies are bespoke; we never use 'off the shelf' strategies because every business is unique. We'll research your company and industry and take a fresh approach when developing your social media marketing strategies.
Our social media marketing experts will help to drive traffic to your site, improve brand awareness and increase your sales. We work collaboratively with your team to develop and build your social media marketing strategy. We will also provide you with analytics in the form of regular reports, updates, and calls to ensure our team is continually meeting your business objectives.

Using social media can be difficult and time-consuming without a diverse and varied skill set and years of social media experience. Many businesses prefer to work with a social media marketing agency such as Riotspace Creative to develop the most effective marketing strategies.
Our social media experts have spent hours marketing and developing on social media. We've developed skills that will allow us to effectively advertise your business across multiple platforms such as Facebook, Instagram and Twitter.

You'll be able to reach people via social media who may not otherwise have discovered your business or products. Riotspace Creative is a passionate team of social media marketing experts who will develop creative posts to engage your audience and improve conversion.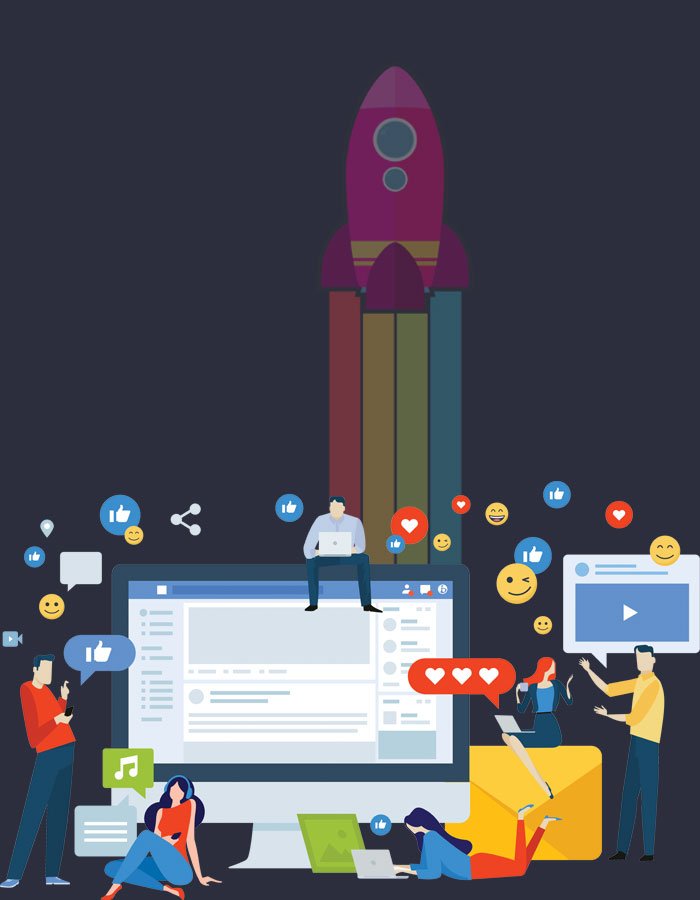 Get your business noticed with a social media Marketing campaign
Riotspace Creative is based in Sturminster Newton, Dorset and works with clients across the UK and Internationally. Our team of website design and digital marketing experts will use social media marketing to help your business meet its objectives. We will develop either short or long-term social media marketing strategies and apply the best techniques and technologies for your company.


Our team also provides website design, ecommerce design, SEO (search engine optimisation), digital marketing, and branding services. If you're searching for a Social Media Manager in Dorset to make an impact on social media, don't hesitate to contact Riotspace Creative on 01258 522 118 or hello@riotspace.com today!