Experts in


PPC advertising
Riotspace Creative is a PPC (pay per click) marketing agency based in Dorset. We're a Google Premier Partner and will advertise your business on a pay per click basis on Google and other platforms. PPC advertising will help put your website, ecommerce website, or WordPress website in front of your target market at the optimum stage in the buyer's journey. We'll drive traffic to your website and help you achieve a higher return on investment.
We are conversion focussed and will target your PPC ads to your audience in a measurable way. PPC advertising is one of the most budget-friendly marketing solutions available. Our team has decades of experience in helping businesses of all sizes with PPC consultancy and management. Riotspace creative will ensure each ad campaign you run is generating success and meeting goals. In many industries, PPC marketing is very competitive, especially if you're selling products that are on-trend and widely searched. If you don't have the correct skills and experience, PPC advertising can end up costing a fortune.
Riotspace Creative offers focused PPC advertising which will allow your business to stand out from the competition. We'll structure your ad accounts to boost revenue and achieve the best return on investment. Our team will meet your objectives and create impactful PPC campaigns by blending technical skills, data-driven insights, and years of experience. We will ensure that each ad is click-worthy and profitable.
A specialist PPC agency like Riotspace will maximise your return on investment and help you meet your goals by utilising strategic thinking and clever ad automation. Riotspace Creative has the knowledge and technology to run PPC advertising campaigns on multiple platforms. We will work with all the main search engines and PPC providers, including Google Search, Microsoft Ads, native networks, and social media such as Facebook and Instagram.

Our PPC advertising services include or involve the following features or stages:
Talk to a PPC advertising expert
If you want to discuss your new PPC advertising campaign, or would like our team to discuss your current advertising strategy, get in touch with us today.
Search advertising
Riotspace Creative uses data-driven insights, competitor data, and audience targeting to perfect our client's bid strategy. Our team will create compelling copy, which is thought-provoking and engaging, allowing your business to expand its reach. We'll use Remarketing Lists for Search Ads (RLSA) to drive traffic to your site and achieve increased sales.
Apple search
If you're looking to improve your app's visibility and increase download numbers, Apple Search Ads (ASA) will help. Riotspace creative will develop effective text ads that focus on getting your app seen by your target market.
Amazon advertising
Amazon is the largest and most popular ecommerce website globally, yet advertising on Amazon can seem daunting. Our experts will develop and create successful ads that make your products stand out. Our team can create product search ads that improve your brand, drive sales and increase profits.
Google ad scripts
Riotspace Creative can automate your campaigns to help you avoid repetitive and tedious tasks. We'll use Google Ad Scripts to control your campaigns, saving your business time and money. Our team will use JavaScript to view data, improve your return on investment and create an improved marketing strategy.
Shopping ads
If you're running an ecommerce business, you'll want to rank in the search engine's shopping feeds to be seen by a purchase-ready audience. Riotspace Creative will develop shopping campaigns to increase sales and ensure potential customers see your products.
Remarketing
Suppose you've had many customers in the past and are looking to gain repeat purchases and create a loyal following. In that case, our marketing strategies will encourage previous customers to revisit your website. Riotspace Creative will target your previous website traffic by creating a focused remarketing strategy.
Consultancy, audits, and training
As well as developing PPC advertising campaigns, our team can train your employees and share our skills and expertise. We also provide consultancy services and training sessions, which will allow you to benefit from our knowledge long into the future.
Display ads
Effective ads are eye-catching, attractive, and attention-grabbing. Riotspace Creative produces ads that demand attention! We create interactive ads that include a mixture of text, images, and video to get the attention of your target market. Our team crafts creative PPC ads that your audience will click on. We'll ensure that they contain a compelling call to action and take potential customers to the correct pages.
Programmatic display
Did you know that the purchasing of ad space can be automated? While this feature is excellent, it's still beneficial to employ a team of marketing professionals to ensure everything runs smoothly. Our team will automate the process of buying and placing PPC ads on various channels and improve the effectiveness of your campaign.
Optimised, competitive
PPC advertising campaigns
Pay Per Click (PPC) advertising is becoming very competitive as it offers business owners a high return on investment and allows for very targeted marketing. Riotspace Creative will create structured campaigns to maximise visibility and take your marketing efforts to the next level.
We will increase your sales and ensure your campaigns are profitable by reducing both the cost per click (CPC) and the cost per acquisition (CPA). Our team will research your industry and target market to ensure your campaign runs on budget and is profitable.

Riotspace Creative prides itself on being Google Search Partners and Microsoft Advertising Partners. Our team is kept up to date with the latest marketing trends, tactics, and strategies. Whether you're looking to optimise a Google Ads campaign or analyse key data to improve your PPC advertising strategy, our team will strive to provide an impactful on-budget service.
Riotspace Creative will structure your PPC advertising campaign to get the most out of each ad. We'll use SEO and keywords to optimise your ads towards your target market. All our ecommerce PPC campaigns are well thought out and will maximise sales.

Riotspace Creative works with businesses of all sizes. We will help improve and measure your KPI's (Key Performance Indicators) and ever-changing business goals. While working with your company, our team will provide regular updates in the form of calls, reports, and analytics. We will ensure that we stick to your budget and focus on targeting the right audience.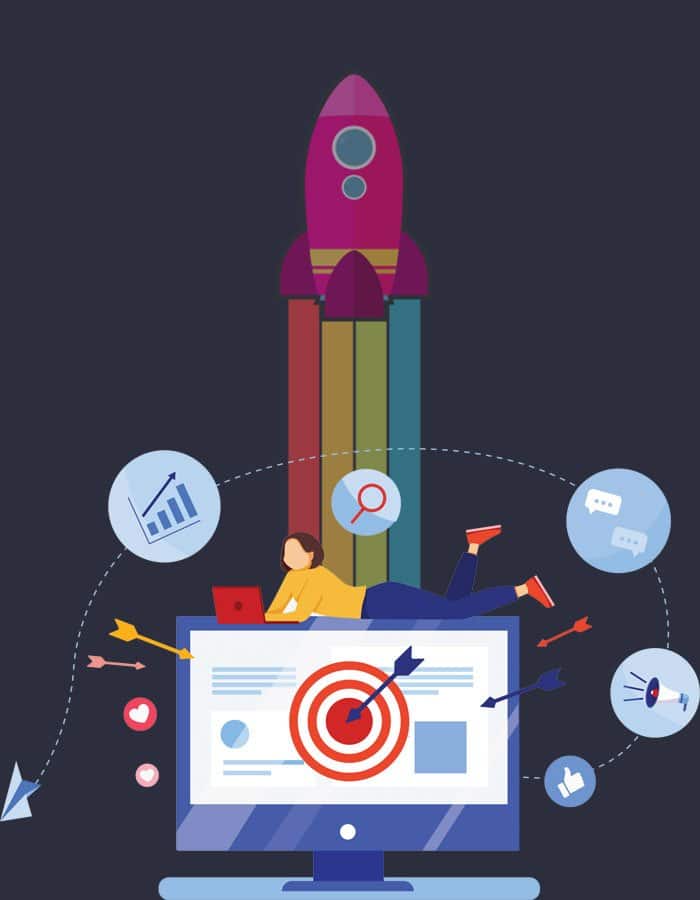 Our unique marketing strategies get the best results for your business
Riotspace Creative is based in Sturminster Newton, Dorset, and works with businesses across the UK. Our team will be happy to discuss your Pay Per Click advertising strategy, evaluate your current paid media strategy or develop your PPC marketing from scratch. We have a unique marketing approach and will determine which strategies will best suit your business. We'll apply the best tactics for your company to help you meet your goals and objectives.


Our team also provides website design, ecommerce design, SEO (search engine optimisation), digital marketing, and branding services. If you're looking to get your business in front of potential customers, don't hesitate to contact Riotspace Creative on 01258 522 118 or hello@riotspace.com today!