Email marketing has one of the best conversion rates of all marketing strategies when correctly implemented. Riotspace Creative will develop your email marketing to improve your business's sales. Our digital marketing experts understand how automation, design, and messaging can encourage consumers to buy or sign up for products and services. We'll collaborate with your business and consider factors such as design, target market, message, user experience, and even subject line!
Email marketing can be an effective part of your overall marketing efforts and will allow you to exceed your marketing goals. If you're looking to build better connections with your target market, email marketing will help. We'll develop and implement an effective email campaign based on complex data and analytics to meet your companies KPIs (key performance indicators).
Our team works hard on every single email, from viewing data, analysing consumer behaviour to writing an engaging email that funnels your target market to your website or landing page. Whether you're looking for email marketing consultancy or require a full management service, Riotspace Creative has the service for you!

The email marketing channel is more complicated than it may first appear. To create a successful email campaign, you'll need to consider a variety of different factors. Riotspace Creative will provide structured campaign management using multiple skills and techniques.

Our email marketing services include or involve the following features or stages:
Talk to an email marketing expert
If you want to discuss your new email marketing campaign, or would like our team to discuss other digital marketing strategies, get in touch with us today.
Lead generation
Riotspace Creative has the skills and knowledge to curate bespoke email marketing strategies. We'll include engaging content and a persuasive call to action to boost traffic to your site, gain sales and generate leads.
Acquisition vs. retention strategies
Riotspace Creative will help you meet your goals, objectives, and KPIs (key performance indicators) through successful email marketing. Whether you plan to market to new or returning customers, we'll build email lists and create engaging content that converts.
Marketing automation
Businesses are increasingly taking advantage of automation to save time and money and make their email campaigns more dynamic. Our team can automate your digital marketing strategy by setting up welcome emails and sales confirmation emails. Automation will allow you to improve your brand's reputation and make your business a leader in your industry!
Email design
One of the most important things to consider when creating an email campaign is the email design. Your target market won't bother navigating to your website if your email design isn't attractive. Riotspace Creative will collaborate with your business to produce stunning emails that effectively reflects your brand.
Email management platforms
Riotspace Creative has a vast knowledge of different email platforms. Whether you use Mailchimp or Active Campaign, our team has the expertise to work with your chosen platform effectively to achieve results.
Campaign management
Our email marketing management service is as unique as your business. We'll tailor our services to your brand's needs. Our team never uses a one size fits all approach and will instead produce bespoke email campaigns. We offer a friendly and reliable service and work collaboratively with your team.
Behavioural Campaigns
Researching and observing your target market's behaviour is an essential aspect of digital marketing. When it comes to email marketing, consumer behaviour is fundamental. Riotspace Creative will engage with your potential customers by creating personalised emails. We'll analyze data and only offer your customers products that are likely to appeal.
Fantastic results
with targeted campaigns
Creating an engaging email marketing campaign requires research, dedication, and knowledge. Our team has the skills, expertise, and technologies to analyse data relating to consumer behaviours and identify the correct email strategy for your company.
We have the necessary skills to design email layouts and write engaging content that's thought-provoking and stands out. Riotspace Creative can manage all facets of your email marketing campaign and create emails that will deliver results and allow your business to accomplish your goals.
Our team is dedicated and passionate when it comes to email marketing. We stay up to date with email marketing techniques and strategies. We'll get to know your business and target market thoroughly and will use the latest tools and innovations to make your campaign a success. We work hard to ensure that your emails will not only be seen but will be opened and acted upon.

Whether you want to build an email list from scratch, find your target market, write enticing copy or design an email template, Riotspace Creative has the technical skills to help your business succeed. If you've recently run an email marketing campaign, we can evaluate its success and utilise the data to improve your future email marketing strategy.

Riotspace Creative will work collaboratively with your business; we'll analyse your results and provide reports, updates, and progress calls to ensure your market objectives are being met.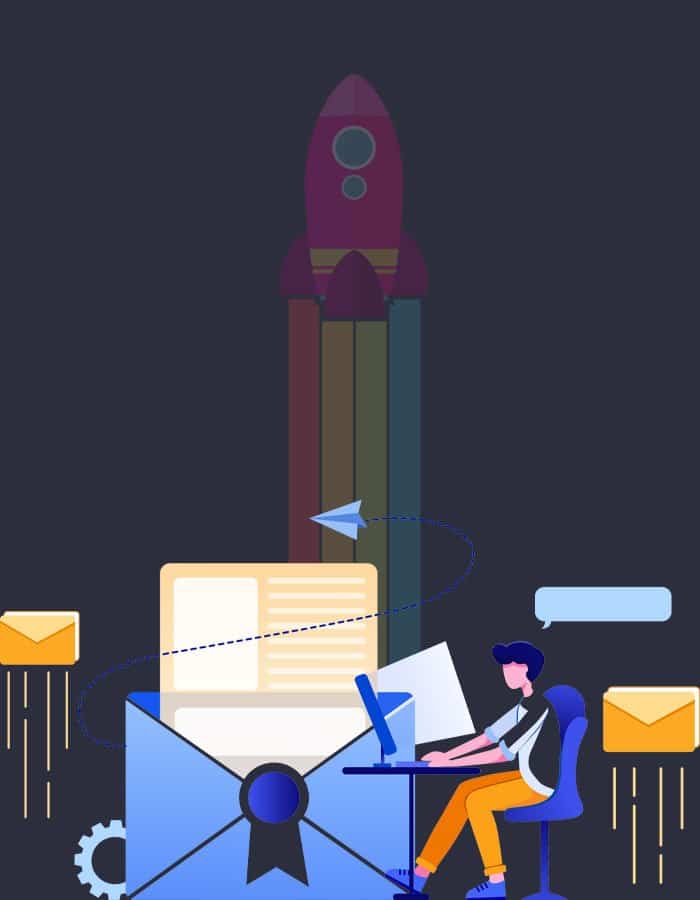 Our marketing experts deliver great results
Riotspace Creative is based in Sturminster Newton, Dorset, and works with businesses of all sizes across the UK and internationally. Our team of marketing experts will use email marketing campaigns to meet your business goals and objectives. We will view consumer behaviours and design and create attractive email campaigns with compelling content to get the desired results.

We consider consumer behaviour when developing an email marketing strategy. We'll view customer data, including browsing habits, brand preferences, and onsite engagements, to create targeted email messages for your audience. Our team will tailor your email marketing to specific customer segments and make your emails feel more personal for the recipient.
Riotspace Creative has helped dozens of companies perfect their email marketing strategy. Our services will allow you to grow your brand by boosting sales and conversions. We'll also forge stronger bonds with your target audience and increase traffic to your WordPress website or ecommerce website.
Our team also provides website design, ecommerce design, SEO (search engine optimisation), digital marketing, and branding services. If you're looking to add an email campaign to your marketing strategy, don't hesitate to contact Riotspace Creative on 01258 522 118 or hello@riotspace.com today!